History-Geography Week 2017
History-Geography Week 2017
10 February 2017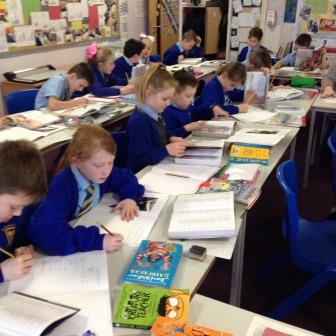 History-Geography Week 2017
From Monday 6th February to Friday 10th February, the whole school took part in History-Geography week. Each year group had a designated decade and learning was focused on the local area of Blackpool.
Volunteers, Mr and Mrs Ashworth, visited the children to tell them all about life on Marton Moss and they explored old pictures of the area. Mr Shaw brought in his slide show and showed the children old pictures of the school and Blackpool. The children asked them lots of questions about life at school in the 1940s.
Mrs Harris, our welfare assistant, and Mrs DeRome, our teaching assistant, also told the children in KS1 about what school life was like at St. Nicholas in the 1940s and 1980s. Mr Coleman also visited Year 6 and they asked him questions about life in the 1940s.
Mrs Carroll, a local historian, kindly lent the school some interactive displays from Blackpool Treasure Trove. The children could pretend they were at the theatre or learn all about the Blackpool poem, 'Albert and the Lion.' Mrs Carroll also showed the children an online game centred around the history and geography of Blackpool. If you would like to play the game, please visit www.ellisbs.co.uk/treasuretrove/
KS2 were visited by Mr Turpin, who served on the HMS Belfast during World War 2. The children really enjoyed his stories about life on the ship and looking at his medals. The HMS Belfast is now a war museum permanently moored in London. http://www.iwm.org.uk/visits/hms-belfast
Year 4 and Year 5 were visited by Mrs Elliott from Community Railway and they learnt all about the history of the railway and the train line from Preston to Blackpool. Mr O'Donnell, from Lancashire Memories, took KS2 children on a journey through the growth of Blackpool with the use of lots of artefacts and videos. He encouraged the children to talk to their elderly relatives and find out as much as they could about their life when they were growing up. Visit http://www.lancashirememories.com/ to see his great work.
All classes took part in decade dancing, thanks to Mrs Dobson and Mrs Sargeant. Children learnt Spice Girl routines, how to twist and 'shout' like Lulu.
Finally, the week ended with a visit from The Gazette, and children in fancy dress from their chosen decade. Wow, what a turn out it was! The costumes were amazing. The children's work was also on display in the hall for everyone to see.
Miss Turner and Mrs Groome would like to thank everyone involved, especially the volunteers who took time to speak to pupils. It was a fantastic week!
Tags: Wow Learning!